What are heel spurs?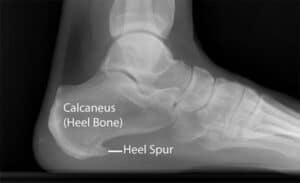 Heel spurs are bony growths that appear on the heel bone, causing pain and discomfort. Heel spurs occur when calcium deposits build up around the heel bone due to abnormal stretching or tearing of the plantar fascia and Achilles tendon. Heel spurs can range in size from a few millimeters to a few centimeters long and can cause severe pain with every step taken. Heel spur symptoms include sharp pain at the bottom of the foot, inflammation or tenderness in the area around the heel bone, and a burning sensation in the heel area when walking or standing for long periods of time. Heel spurs can be very painful and debilitating, making it difficult to perform everyday activities.
What can you do to treat heel spurs?
Fortunately, there are various treatments available to reduce heel spur pain and improve mobility. Heel lifts are one of the most popular treatments for heel spurs as they help to reduce strain on the affected area by elevating the heel above ground level. While heel lifts provide cushioning and help to relieve pressure on tendons and ligaments surrounding the affected area the effects are often short-lived. Ice therapy is also an effective treatment for reducing inflammation associated with heel spurs. For best results, ice should be applied directly to the affected area for 15-20 minutes at least three times a day. Similarly, anti-inflammatory medications such as ibuprofen or naproxen sodium can also help reduce inflammation related to heel spurs but should not be taken without consulting with a doctor or pharmacist first.
Stretching exercises may also help reduce pain caused by heel spurs by providing relief from tight muscles in your feet or legs which can contribute to increased levels of stress around your heels. If you're experiencing chronic pain due to heel spurs, it may be beneficial to consider seeing a physical therapist who specializes in foot and ankle conditions as they will be able to provide tailored advice about specific exercises that might work best for you based on your individual needs and goals.
Can Arch Supports help?
At Step Right, we have had great success in helping people suffering from heel spurs. As the cause of this condition is often multifactorial, we take the same approach in treating painful heel spurs. Cushioned yet well-structured footwear along with specially designed arch support can help reduce the pain in a big way. By distributing the pressure through the feet more evenly well designed arch supports can hugely relieve the pain caused by heel spurs.
We have 17 years of experience and have assessed over 25,000 people for foot and gait misalignment. The arch supports we supply are of the highest standard and are tailored to your specific needs. Visit our store or clinics or better again download our app and have your feet assessed from the comfort of your own home.