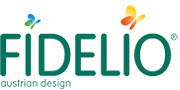 Fidelio is a family-owned company that was founded in 1960 in the small town of Graz in Austria. The brand specializes in comfortable and stylish shoes, with a focus on high-quality materials and craftsmanship.
Fidelio shoes are designed to provide exceptional comfort, with features such as soft and flexible leather uppers with a focus on foot health and are crafted from premium materials such as soft leathers, suede, and nubuck. The shoes feature anatomically shaped footbeds that provide excellent support and cushioning, helping to reduce pressure on the feet and joints. The brand also offers shoes in a range of widths and sizes to ensure a perfect fit for every foot.
One of Fidelio's signature technologies is the "Magic Stretch" feature, which allows certain areas of the shoe to stretch and adapt to the shape of the foot. This helps to ensure a perfect fit and makes the shoes ideal for anyone who suffer from foot problems such as bunions or hammertoes.
In addition to comfort, Fidelio shoes are also known for their stylish designs. The brand offers a range of styles, from casual sandals and sneakers to dressy pumps and boots, with a focus on classic and timeless designs that can be worn for many occasions.
Shop Fidelio